AFTER many conversations, questions, and mostly PRAYERS, we have decided that Rykel will be attending 1st grade at the Public School. What an emotionally stressful week, but I know that this will be a GREAT thing for her and for us. I'm actually REALLY excited about this year for her.
So with 2 kids in public school, 1 kid in homeschool, 1 kid in Happy Pre-School and 1 CRAZY baby, this school year is going to be quite eventful!
Its so funny….I didn't REALLY mean to drag my feet to enroll Rykel in school..ONCE we made the decision. BUT it kinda just crept upon me. Then Thursday afternoon last week Jase mentioned we better enroll her so she can start on time with the other kids & not make a scene. SO Friday midday I REMEMBERED and hurried and called the school then called her doctor figured out she was behind on her shots. So while my babies were sleeping I had the neighbor boy come over and babysit them so I could bike down to the Elementary to fill out her basic info WHILE Jase took Rykel to the Doc to update her TB test. One hour before the school closed I had her paperwork turned in, and I begged to get a teacher assigned to her so on Monday Morning when school starts I can have her TB test read & give my final paper work & she will be officially enrolled! PHEW!
On My way back from the Elementary on the bike I called a 1st grade teacher who is also a neighbor and chatted with her about who I might be getting. She reassured me that all the 1st grade teachers were awesome. But this teacher has actually taught Rykel at church & mentioned that she would love to have Rykel in her 1st grade class….(I was secretly hoping it too)! So she pulled some strings and RYKEL got the AWESOME 1st grade teacher that I had hoped for and now I feel a little relief that she is in GOOD HANDS!
THINKING about school starting. My sweet little boy that is so polite & who trusts everyone AND my Daughter that is fun, adventureous and amazing is entering the school world. A world that may not emphasize the same morals and beliefs that I have. That will NOT talk of God in everyday conversation like we do at home. A world that is SO different than when I went to school. BUT I know that they are supposed to be going there. And that they will learn things that they need right now & that I may not be able to provide at home. SO WITH THAT I am hoping that some of the things that I enjoyed and loved from grade school THEY might get to enjoy also.
One of my favorite memories as a kid is standing up in the beginning of the day and repeating the Pledge of Allegiance. I sure hope that my kids will learn the LOVE of our Country & respect of the Flag.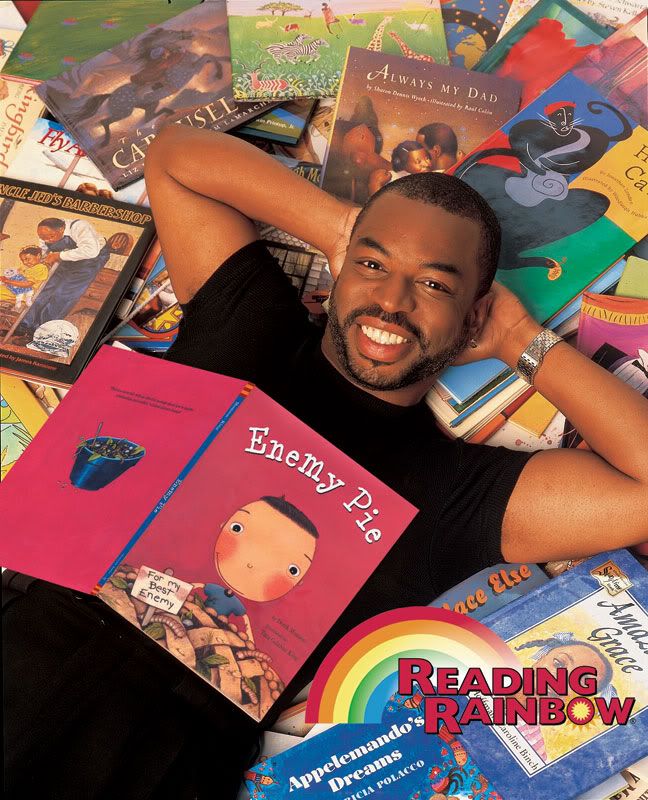 Another memory that stands out in my head is watching Reading Rainbow. Serious LOVE THAT GUY! I wanted to jump into the books like they did on Reading Rainbow.

I think something that I try to imitate is the decorated class. You could tell what time of the year it was because of all the decorations in class! I LOVE THAT!
Today, SUNDAY, we did 2 school traditions that we've done the last couple of years. #1 – we like to give the kids their required school supplies like a gift. So I stuff the backpacks and make it look all cool & they get to dig through their supplies before they take them to school tomorrow. And the 2nd tradition is a Father's Blessing. Jase and I both had that each year before school starts. Well I guess that makes SCHOOL START official.
What's your fun School starting traditions?