This girl is 16 1/2 months old and FINALLY she has enough hair to do pig tails. I LOVE IT!
But of course Evee has found other things to entertain herself…..her nose. A big hit with her. But really I wonder…what is it about the nose that is so faccinating? Is it the treasures that are inside…or is it because your finger fits ever-so-nicely!
The next best entertainment is of course the PERFECT accessory. This girl is my only child that keeps her hats, sunglasses, headband, shoes, etc on. She just loves to accessorize.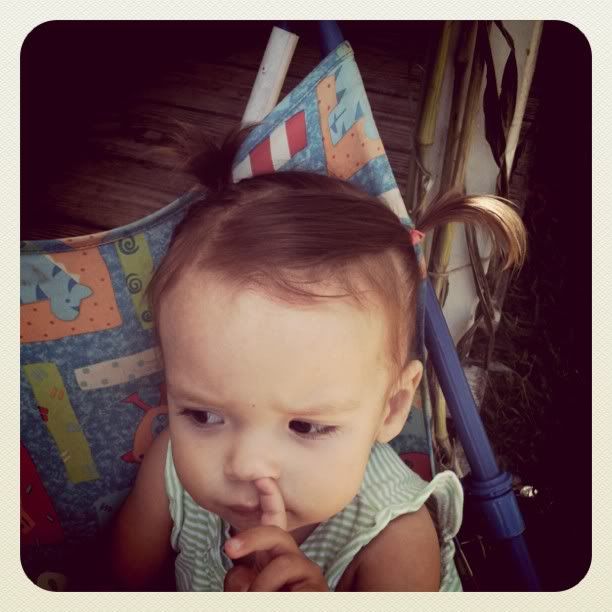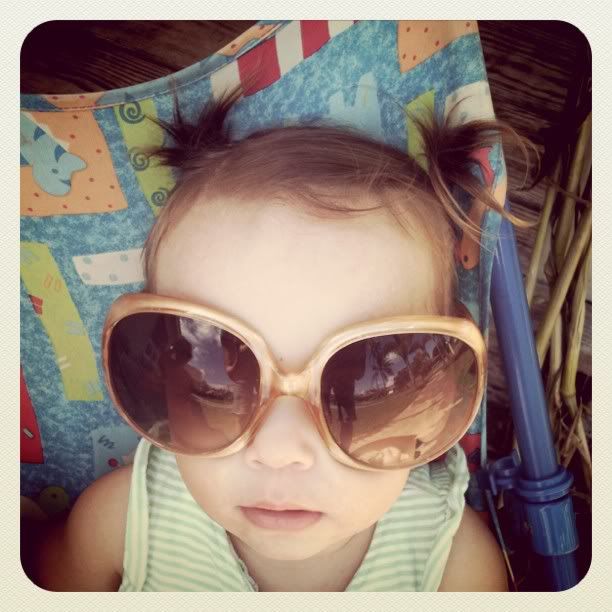 As of late THIS girl has been letting me know when she is about to go "poo poo," and sure enough a few minutes later she goes POOP. So I know this is the SIGN to start potty training….but REALLY?!! She is only 16 months old. So I put her on the potty chair and she thought it was fun. But she doesn't sit for a long time. She sits and stands, sits and stands, picks it up and WALKS around with it. A few times she has started to go & I've picked her up and put her on the potty chair….but I don't think its clicking for her yet. I'm not sure if I'm ready to start the system…staying home for a long time, not going anywhere, cleaning up accidents EVERYWHERE! Its not like I've got a shortage of those. Goodness….BUT if she does potty train, I could have NO kids in diapers…that would be a MIRACLE! But I'd bet THEN I'd get pregnant! HA!