My December/Pearl Harbor baby turned 5 this last Wednesday. Yep he was born on December 7, 2006. We actually thought about going to see the Pearl Harbor memorial, but I think on the DAY would be hectic, so we'll save that for a field trip.
ANYWAYS, On Family Party years we like to go somewhere and have our own mini party….and SINCE Shae hadn't been to Chuck-e-Cheese in a while, it was his turn to have a PARTY there. I find that Chuck-e-Cheese is a relaxing party for me. We pay for the food with tokens, and the kids run wild and eat every now and then. We went in the Afternoon and hardly anyone was there. It was awesome the kids were playing on EVERYTHING. Jase likes to go and do a few games that give out a lot of tickets so the kids can get bigger prizes.
Shae loved his special attention from Chuck-E and his awesome slice of cake.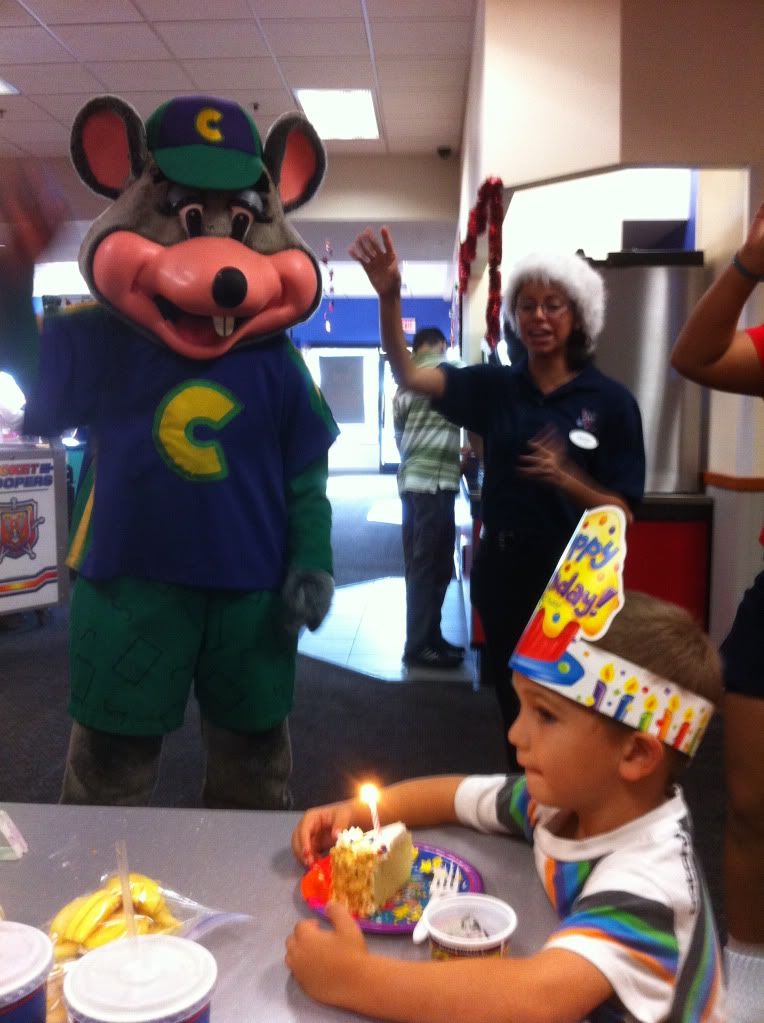 After the cake and such, Chuck-E did a dance off. So the kids jumped in and ROCKED IT! They got tickets if they participated and MORE if they were good at it, so needless to say KLAI got the most tickets!
Shae just beems when he is the center of attention. What a cool kid!
Here is 5 FAbulous things I LOVE about Shae:
1 – Shae constantly has an attitude of Gratitude. He will always thank me for "making this lovely dinner." He Thanks his teachers and friends all the time.
2 – Shae is mellow and easy going. He is easy to please and is always smiling. He will even giggle at times when he is being scolded (always keeping that positive attitude).
3 – Shae is a peacemaker. He sometimes seems to be the only one that can calm Wyatt down and make him happy and giggle. He can play anything with anyone, happily.
4 – Shae is a cuddler. I love to cuddle this kid. He has such a calm heartbeat he often puts me to sleep if I lay down with him. He loves to even cuddle Wyatt and Evee.
5 – Shae loves to learn. He will come home from school repeating phrases and learning patterns. He will show me all the cool things he has learned and he's very proud of his accomplishments, and so are we!
Happy Birthday SHAE-man!