From a spin off of The Wizard of Oz came:
"Over the Rainbow" A local Laie version:) From a Spam Tin Can Man, to Little Menehunes and Elvis, this play had it all. It was super cute. And I love that they do it all in 1 week, from start to performance. The kids get their "groups" or parts Friday before, and each day for 2 hours they practice, build, sing and have fun. Then Friday at Noon they perform for the parents, so awesome. I'm glad we're surrounded by such good moms that are creative and have the OOMPH to put this thing together. Too bad Jase missed it, but good thing they recorded it!
Shae was part of the Monkeys, people say they monkey around!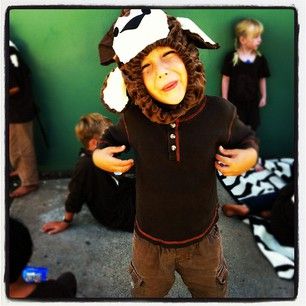 Rykel was a dancing Hibiscus, where Dot sneezes in the field of Hisbicus (instead of falls asleep in the field of posies/poppies?)

And Klai was a witch, Dot goes to witch shool and learns how to cackle and be mean. Klai loved having big poofy ratted hair. We're learning all different ways of doing her hair, so FUN!