We have been in Utah for a month and Rusty is going crazy ALL alone in Hawaii. I know that our dear neighbor's, the HYDEs, are taking great care of him. But he's not used to being alone all day long. He would follow me everywhere and would howl when I left to take the kids anywhere. He's our protector and friend.

And I can't live without my RUSTY! So we had him sent to us in Utah. Yes that is crazy…who does that. WELL…we are feeling a change in the air coming, SO we had to bring Rusty. And our GREAT friends, Jaliz & Chelsea, were coming out for Christmas and said they would bring him.
Chelsea did everything and I love her so much for it. She found a kennel, for free I might add, then called the airlines to make sure it was ok, I had Audrey get his food ready and then label his kennel and he was off! I'm pretty sure he didn't like it, cause when I got him from baggage claim, he looked all sad. But he was SUPER excited to get into the car.
RIGHT when we got to the house, he loved his new friends that he acquired, Koa (mom's golden retriever) & Bubba (Erin's English Black Lab). Rusty finished off the color scheme nicely! Well we let him out and oh he became FREEZING rusty! He didn't know what to do in the snow. It took him a few days to adjust to going to the bathroom in that stuff!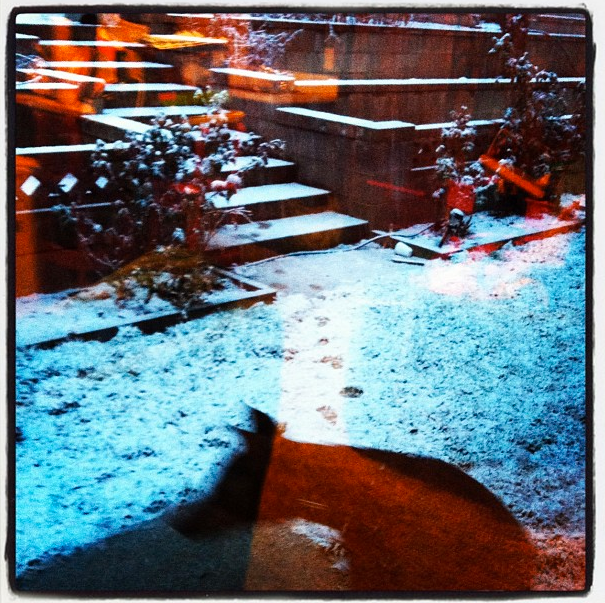 The kids love cuddling him, especially Cora. Rusty is the only dog we've had that is so gentle with the kids, he lets them pull on his ears and lay all over him and he LOVES it. I'm so glad he is here, even though he may not appreciate the cold. But I know that he is glad to be here too. I love him!