Grandma loves to coo and talk to Cora. And I think Cora loves it too! I was excited to take a pic of this fun time. Of course everybody loves Cora…especially Wyatt. He does this funny tickle on her check…but she doesn't seem to mind. She loves his attention. This girl is getting quite spoiled with attention.
Right now the big girls are becoming So helpful and Rykel is a fabulous Baby sitter! She loves sharing her talents with her sister. I especially love that Rykel loves to hang out by the Christmas tree. She will come and just sit by the tree and star at its beauty…she's my kinda girl!
I especially love to hangout by the tree at night…its so beautiful! I spent many a nights in this front room, when I was younger, staring at the magic of the tree. Oh the memories!

As it gets closer to Christmas we had to invest in some warmer clothes, and Cora gets all festive in her onesies! I love the Red plaid and the "too cool" onesie that Aunty NIkki sent. We are surviving here in the cold with these small purchases every now and then!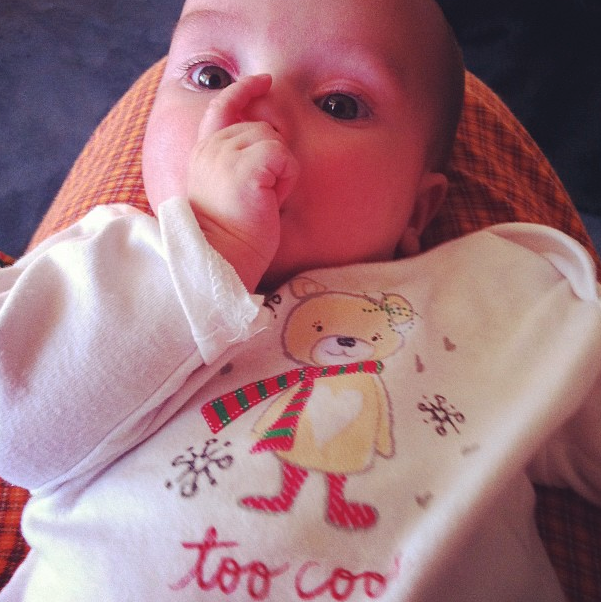 I got my Christmas craft on and made a Subway Art Iron-on Vinyl Pillow. I love it.

We had to hit up the Timp 3rd ward Christmas Party. And I'm that crazy mommy that makes my kids dress in Holiday outfits or you must wear HOLIDAY colors. The kids had fun & I loved wearing my red & white stripe socks that Nikki sent. She was well prepared for the Holidays!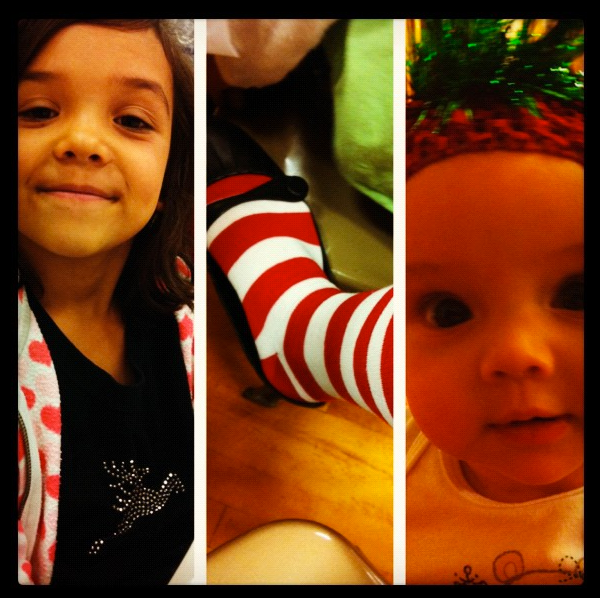 And the kids were counting the minutes to sit with Santa. I loved how the Primary room was decorated for Santa to come and we got to take lots of pictures!

This was the best Santa ever. He knew all the kids names & asked them what they wanted and said that if they were good (and he told them specifically what each kid needed to work on!) they would get their present!
Well not too long till Christmas! I hope the are feeling the Christmas spirit like I am:)