As a young child I remember Arizona as being a place where you can find awesome rocks and precious stones. My girls have become collectors of rocks, especially Klai…so we HAD to find a mining town.We found Goldfield Ghost Town.
We left excited on a day that Jase was not working the Costco Road show. And who would have thought that it was supposed to rain that day. We thought…we just came from snow a little rain, we are OK. So we ventured out prepared for rain with trash bag ponchos and light jackets. The kids were STOKED!
We showed up to some seriously Arizona rain and the temperatures were dropping, it was a mighty cold day…even for us who came from Utah.
We had to run into the first little shop we saw to get out of the rain. We saw so many awesome treasures there! Our favorite was definitely the Bacon Soda, crazy stuff here.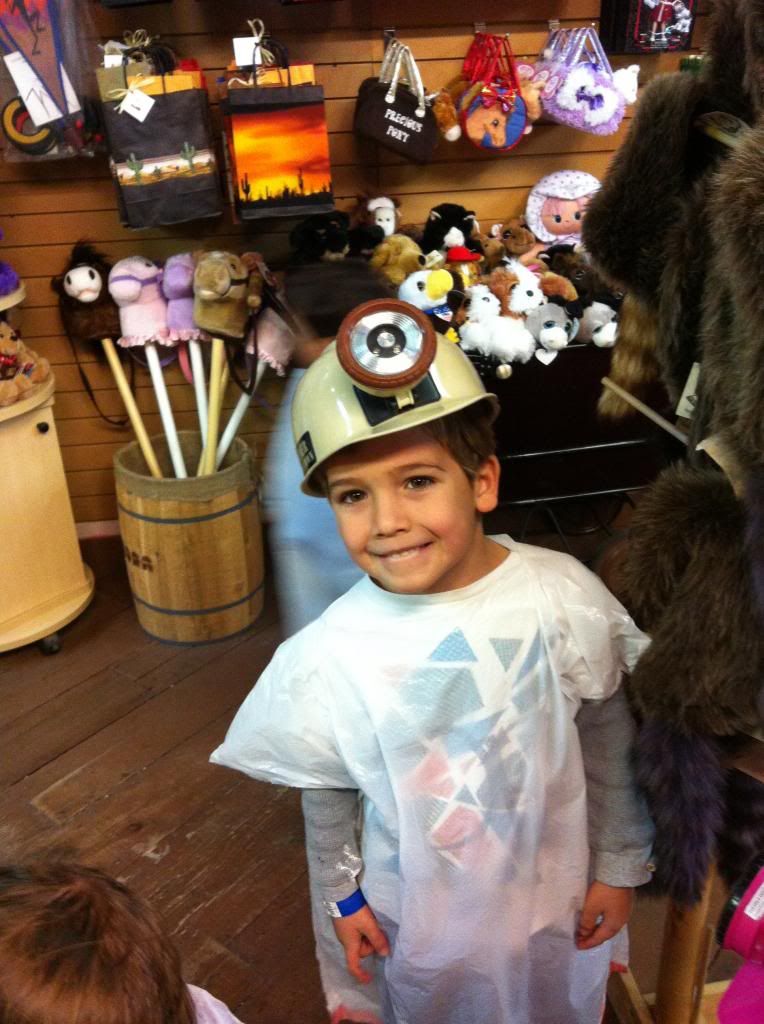 Kids loved trying on all the mining gear.
As we warmed up our bodies, we braved the cold. And just as we were leaving the store….it started to snow! Holy crap Batman, what is it doing snowing in Arizona. It was unheard of there. The workers said they get snow once every couple of years, we are just some of the fortunate ones…I guess.
We ran from store to store finding shelter and seeing the cool things they had there. Sadly some of the activities were closed, due to weather. So we weren't able to pan for gold or go in the mine. The kids although sad, found an awesome rock shop to use their vacation money to buy great stuff! Klai of course found lots of precious rocks for her collection. Evee bought a cuddly horse. Rykel got the rattlesnake eggs & Wyatt got a western rubberband gun. SAWEETT!
We did enjoy getting some yummy snacks and HOT CHOCOLATE from a lovely lady that was actually from Laie/Kahuku area. It sure is a small world.
Rykel loved a funny treasure that we found there. The RATTLESNAKE EGGS!!! Klai jumped super high.
Another adventure with great memories! I think these kids are gonna the roadtrip life on the mainland. Can't wait to to see what happens next!